A stable and durable aluminium structure for ceramic tiles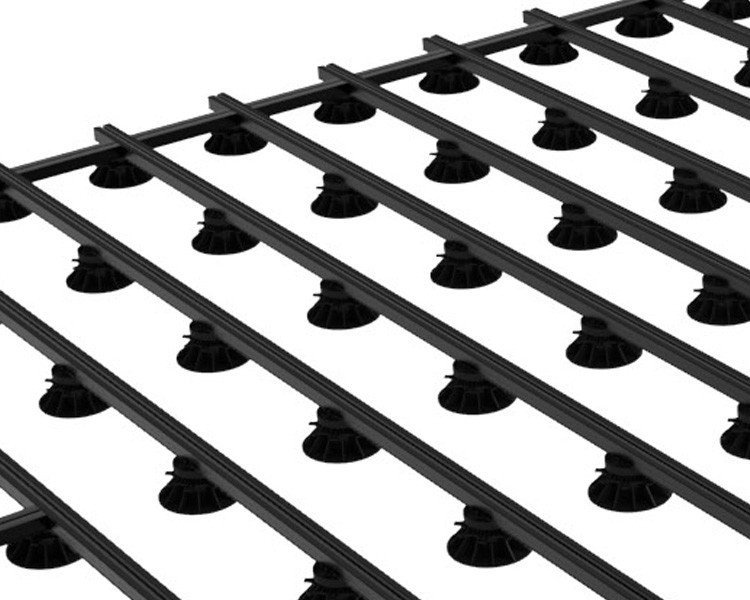 Know everything
Rot-proof - Weather resistant
Quick and easy assembly
Removable and light structure
Stable and mechanically resistant
Perfect flatness with installation on adjustable NIVO® pedestals
Lifetime warranty
Discover Structur'AL® for stoneware tiles
Structur'AL® for stoneware tiles is compatible with the main square or rectangular formats. A fastening system for aluminium joists using clips on adjustable pedestals intended to offer a unique, stable, removable and perfectly rot-proof structure! Supplied with a set of accessories facilitating installation, clean finishes and comfortable use. This system guarantees perfect flatness for your structure without any risk of warping and lets you mix various formats in order for your creativity to run wild!
Aluminium structure for ceramic tiles
Installation of CERAM deck skirting boards

The aluminium structure is offered for the implementation of stoneware tiles with a set of accessories to combine different formats and even to associate them with deck boards!
Rigid and rot-proof, Structur'AL Ceram ensures very good stability and very good performance over time for your ceramic materials. No more warping for large formats and maximum installation comfort for rectangular formats.
A removable system
Structur'AL is compatible with adjustable NIVO® pedestals using a NIVO® over-pedestal which connects between aluminium joists and the adjustable pedestal. The aluminium joist fastens on the over-pedestal by simple pressure and releases just as easily. Perfectly compatible on water-proof capacity.
Components of the StructurAL® CERAM design
Cross-bars

• Polymer clip
• Snap-blade cross-bars

Top and bottom hooks

• Skirting board fastening
• Aluminium
•Supplied with self-drilling screws

Aluminium skirting board

• Skirting board finish
• Dimensions 15x35x1000mm

EDPM tape

• Reduction of noise and vibrations
• Th.: 5 mm - L=20 m
• Density: 110 kg/m3 - Shore A hardness: 35

Over-pedestal

• Fastening of aluminium joists - on NIVO® tile pedestals
• Thickness: 20mm
• Diameter: 122mm
By continuing to browse this site, you accept the use of cookies to provide you with services and offers tailored to your interests.
Accept
To know more about it
La version de votre navigateur est trop ancienne
Vous ne pourrez pas afficher de manière optimale le contenu de ce site. Télécharger