An adjustable, robust and easy-to-install tile support.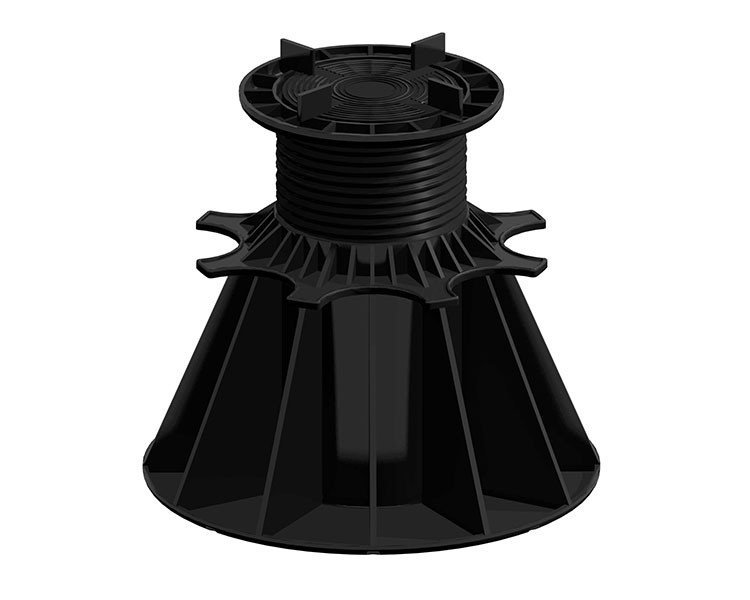 Know everything
To shim 25 to 530 mm tiles
Pedestal head with joist support
Height adjustment by micrometric screw
Supports up to 1,000 kg
Compliant with Building Codes
Made of recyclable polypropylene
To shim 25 to 530 mm high tiles
NIVO® pedestals for concrete, ceramic or wood tiles are offered in 7 heights between 25 to 240 mm, with the possibility of extending their height up to 530 mm.
All of our NIVO® tile pedestals are height adjustable with micrometric screws, thus ensuring the installation of your tile deck with excellent precision. The quality of the material used helps us ensure resistance to any bad weather and UV rays and provide remarkable stability.
NIVO® pedestals all have a Ø20cm = 314cm² base which is large enough to prevent the deck from sinking on stabilized ground. This diameter is of course compliant with Building Codes Deck and Waterproofing. The rotation screw diameter is one of the largest on the market, thus offering excellent pedestal stability.

Our pedestals are all compliant with D.T.U 43 and 51-4. The acceptable load per pedestal is at most 1,000 kg. (compression test report upon request)
Technical diagrams
Pedestal 25 - 40 mm

- min. opening: 25mm
- max. opening: 40mm
- weight: 0.17kg

Plot 40 - 60 mm

- min. opening: 40 mm
- max. opening: 60 mm
- weight: 0.23 Kg

Plot 50 - 80 mm

- min. opening: 50 mm
- max. opening: 80 mm
- weight: 0.26 Kg

Plot 80 - 140 mm

- min. opening: 80 mm
- max. opening: 140 mm
- weight: 0.33 Kg

Plot 140 - 230 mm

- min. opening: 140 mm
- max. opening: 230 mm
- weight: 0.51 Kg

Plot 230 - 530 mm

- min. opening: 200 mm
- max. opening: 530 mm
Optional: the NIVO® over-pedestal to clip on StructurAL® aluminium joists

NIVO® tile pedestals may be equipped with a 1 cm thick "Over-pedestal" which fits on the pedestal head between lugs and easily clips on and clips off StructurAL®
By continuing to browse this site, you accept the use of cookies to provide you with services and offers tailored to your interests.
Accept
To know more about it
La version de votre navigateur est trop ancienne
Vous ne pourrez pas afficher de manière optimale le contenu de ce site. Télécharger