A deck board with carved character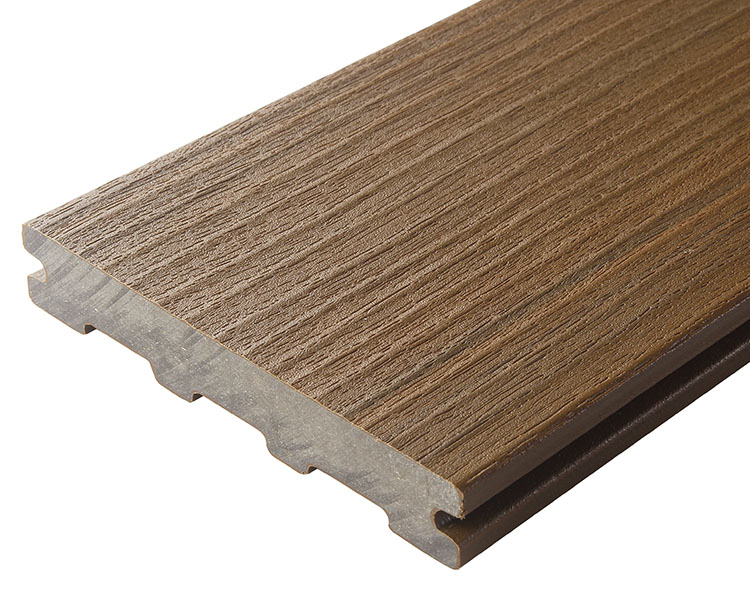 All you need to know
Co-extruded deck board
Exotic Wood relief grained surface
Multi-chromatic colours
Stain and fading resistant
Matte smooth face
A nice Exotic wood decor
The new Fiberdeck® HERITAGE composite decking board presents a new decor that perfectly imitates exotic wood. The pores of the wood are reproduced in every details. The surface of the board has irregularities that catch the light and give it rhythm. It is an "adze" aspect that corresponds to the ancestral tool used by carpenters to flatten a piece of wood.
This blade benefits from a new co-extrusion coating that is very resistant to abrasion. The protective layer is hard, it limits scratches. This layer is present on all 4 sides of the decking board.
Finally, this solid board is offered in 3 multi-chromatic colors : Ocean gray, Indian Summer and Havana Brown to get as close as possible to a natural exotic deck board.
Product benefits
360° coextruded cap
Perfect imitation of Exotic wood
Cobra Hybrid Clip
Fiberdeck guarantees that for a 20-year period under normal and correct service conditions, and under installation conditions in compliance with instructions written by Fiberdeck, HERITAGE boards will not be subject to any defect related to their manufacturing, cracks, splinters, delamination, rotting or structural damage caused by fungi, wood-eating insect or termite attacks.
Fiberdeck guarantees the resistance of BROOKLYN deck boards to stains and fading, subject to compliance with instructions for installation and use in residential applications.
HERITAGE deck boards are fully resistant to stains, and their radiance is sustained by a co-extrusion process, which covers the board with a pure polyethylene film to ensure perfect sealing of the coating. Maintenance is easier and is limited to simple water rinsing.
The high-density polyethylene and wood fibre mixture composing the core of the board also ensures very good resistance to impacts and wear.
HERITAGE is an eco-friendly product. 95% manufactured with raw materials from the recycling industry, deck boards are also entirely recyclable.
High-density polyethylene (HDPE) comes from the recycling of plastic waste (plastic bottles), and the wood fibres come from sawdust from manufacturers such as furniture makers.
Manufacturing HERITAGE deck boards does not harm tropical forests; it is an interesting alternative to exotic woods.
By continuing to browse this site, you accept the use of cookies to provide you with services and offers tailored to your interests.
Accept
To know more about it
La version de votre navigateur est trop ancienne
Vous ne pourrez pas afficher de manière optimale le contenu de ce site. Télécharger